- Realistic sample designs, practical help and 150 active users worldwide.
- Constant updating and development with user newsletter.
- Integrated 3D sail design,fairing, paneling and printing/plotting of offsets.
- Gaff sails included at no extra cost.
- Incorporating twist and viewing from any angle.
- Chord, contour, net, surface, rendered and panel lines for viewing.
- Unrestricted number of shaping chords, elliptical or aerofoil.
- Simple or sophisticated mould shapes and paneling.
- Input and alteration of shaping by mouse or keyboard, in absolute or % values.
- Automatic metric, imperial and percentage conversions.
- Boat and rig setup with spreaders,tack height and spinnaker pole.
- Girth, area and corner angle calculation.
- Short or full length battens.
- Extensive sail markings of reefs, cunninghams, telltales, draft stripes and windows.
- Backstay feature for high roach mainsails.
Combining ease of use with the speed of the Macintosh based computers, SailMaker has brought within reach of every sail loft, the opportunity to benefit from computer aided design and manufacturing techniques without the need for a large capital investment. Finally, and most importantly, the programming team at Sail Science Australia have, since 1983, worked very closely with existing customers to ensure the software meets their requirements in the most practical and productive fashion. This intimate liaison has resulted firstly in the most useful and well proven sail design and production demonstrates the continued interest, development and support available from Sail Science Australia.
- The practical approach ensures that the user makes savings in design and production time and materials.
- All of this is achieved with the use of an accurate, surface based, three dimensional model and exceptionally easy to use graphical tools.
- Interfacing to most plotters and cutters and also stress analysis, VPP and CAD programs, ensures maximum compatibility.
- Simple scaling and advanced fairing techniques are available to help you make faster sails.
The SailMaker covers everything from simple headsail and mainsail design to sophisticated mould shapes and panel layouts for any type of sail.
Unlike the confusing 'numbers based' systems, SailMaker consistently presents you with your choice of clear, accurate graphical displays to design your sail shapes by use of the mouse. Virtually unlimited numbers of shaping chords and precise digital information is always shown, giving you complete design control. Chords may be elliptical in shape and most importantly they incorporate 'twist'.
Existing successful designs may be rescaled by simply altering the luff, leech and foot or LP dimensions. Then alterations made to edge shaping, battens and production card. Full details may be printed at any time.
SailMaker is supplied with several well proven sample sail designs and full support from Sail Science Australia. Once you have achieved the desired mould shape the next phase is panel development. SailMaker's PatternMaker module allows you to develop panel layouts, without placing restrictions on the regions or patterns you create. You choose material, seam and panel widths as appropriate then SailMaker accurately and swiftly develops the individually shaped 2D panels.
SailMaker LE is a version of SailMaker that allows you to design and manufacture sails from a set of standard moulds supplied by Sail Science Australia.
- Access to a world class sail design database. Production proved race and cruise designs
- Fully complete designs in all respects, ready to make sails. Ideal for giving a new loft a quality advantage
- No extra cost, SailMaker LE is included free with SailMaker. Pay for designs only as you use them
- The Mould Library continues to develop and expand under Sail Science Australia.
PatternMaker is the panelling tool built into SailMaker. It allows the development of completely unlimited panel layouts.
- Unlimited panel layouts through the use of unrestricted regional seams and unrestricted patterns within the regions
- Flexible approach to switching between regions and redeveloping regional seams and patterns.
- Zoom and drag functions
- 3D graphical previews
- Faster panel development
- Allows you to reduce fabric waste
SailMaker provides the tools you need to produce top quality sail designs in less time.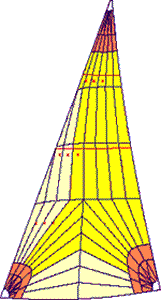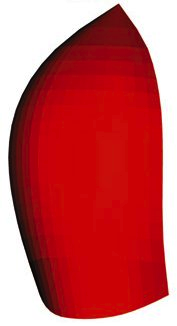 Positions of battens, windows and even detailing like telltales and camber stripes may be determined.
The Sail Science Australia.\ Mould Library is an extensive library of over 120 sail designs, covering mainsail, headsail, gaff, asymmetric, symmetric and dinghy designs.
PatchMaker provides corner patching for SailMaker and SailMaker LE programs.
- Simple to use, mouse drag control points to create patch shapes.
- Easy scaling and reusing patch files for other sails.
- Block, fan and radial patches plus an unconstrained general option.
- Saves time on the loft floor.
- Dramatically reduces fabric wastage.